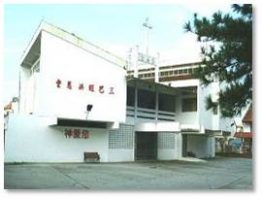 Founded in 1974 by the Presbyterian Christians community in Sembawang, this church was built on the land at Jalan Jeruju donated by the late elder Ang Oon Hue. In February 1991, it was registered as an independent Presbyterian Church after the worshippers who had used the church premises left. In 2003, Elder Lawrence Ang and Elder Patricia Ang, the elder children of the late Elder Ang Oon Hue invited Rev Eric Ang and his team of co-workers from Sion Community Services to help reorganize the church and set up the new congregations. An English congregation with Chinese interpretation was established and today there are two English services and one Chinese service. The 30-year old building underwent re-development and the new church building was completed in 2007.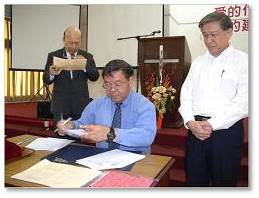 The most visible feature of the church is the bell-tower and its stained glass. The bells imported from France will chime everyday at noon to remind its worshippers and the community within the vicinity of the presence of God in this place and also to encourage them to take rest and pray. Sembawang Presbyterian Church became a part of the bigger family of the Presbyterian Church in Singapore in 2006 . The church in partnership with Presbyterian Community Services operates three student care centres established in 1997. This community services project was originally started as the community outreach arm of Sion PC. Today, these student care centres are planned for re-development and one of them at Pasir Ris St 21 has been transformed into a new 3-in-1 Childcare Services.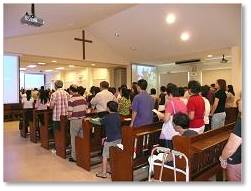 Various church ministries were established over the years and Edelweiss Kindergarten was established in 2007. Today the church premises is very well utilized by members and worshippers for the various ministries, meetings, bible-study and fellowship activities besides the Sunday worship services.